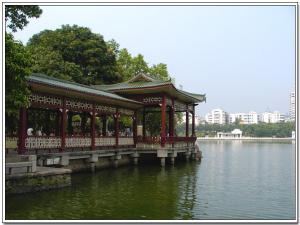 The park has a history of over 1,700 years up till today. It originated in the third year of Taikang, Jin dynasty, when the chief of the city Yangao led the water from the mountains in the northwest to irrigate the fields here. The name was gained because it is located in the west of the city of Jin. The present scale was formed due to the extension generation after generation.
West Lake has a total area of 45hectares and a water area of about30 hectares. It has three islands in total, i.e. Kaihua Island, Xieping Island and Yaojiao Island. The three islands are connected by Liudi bridge, Feihong bridge ,Buyun bridge and Beizha bridge respectively. The main spectacles consist of the willow landscape on fairy bridge ,spring rain in the center of the lake, the Gudie slanting sunshine ,vying for crossing between lake and sky, Wanzai Room, Ziwei hall, Jianhu Pavilion, Lotus Pavilion, and Osmanthus Room ,etc.
The willow landscape on fairy bridge has ever been one of the eighth spectacles of ancient west lake. Upon entering the gate of the park, you can see long banks beside the lake, bowing willows standing on the banks. The bank is willow bank, the middle of which is the bridge, i.e. fairy bridge. Both sides are planted with willows, peaches and bushes. The spring rain in the center of the lake is also one of the eighth spectacles of West Lake. Whenever spring rain falls thickly, you can have a boat tour on the lake, or appreciate the rain in the little pavilion in the center of the lake. Each has its own flavor.
On the dragon boat festival each year, there will be holding dragon boat competition on West Lake of Fuzhou. At that time, there will be fierce and magnificent pictures between the wide sky and water with sound of gongs and drums piercing through the sky. Besides, Fujian Museum and Food Exhibition hall are in the park too. If you are interested in them, you can have a tour when appreciating the beautiful landscape of the lake and mountain.