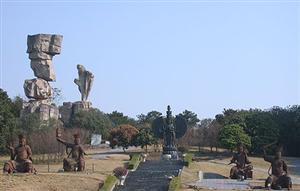 Grand Spectacle of the World is located in Tianhe Dongpuhuang Village, Guangdong Province. There are large quantities of sceneries that are built one to one similar to the original scenery spots around the world. They are all built in the area of 480,000 square meters with a total investment of 600 million yuan. It was officially opened in October 18, 1995.

Grand Spectacle of the World distributes nine natural wonders, including six landscape wonders, three giant plant wonders. You name it, they have it. There are four gardens of the world: Chinese Gardens, European Gardens, British Gardens and Japan Gardens. All famous works can be found in the Grand Spectacle of the World. You can enjoy a full eye of the spectacular view.

Moreover, gardens also have six big theaters, four big recreational area, architectural statue of more than 20 countries and a complete set of facility. So you can immerse yourself in the activities.