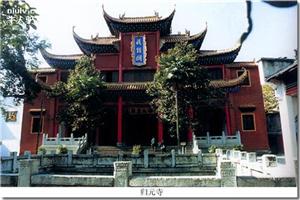 Guiyuan, or Gui yuan ("Original purity"), Buddhist Temple, located in Wuhan, Hubei Province, is the fourth-largest Buddhist temple in China, and ranks among Chinese Buddhism's most important places of worship. Originally built in the early part of the Qing (CE 1644-1911) Dynasty, Guiyuan Temple, with its many Buddhist sutras and other important Buddhist relics, survived China's tumultuous Cultural Revolution. Much of the temple has been repeatedly destroyed and rebuilt throughout its 300 year history.
Besides its impressive collection of sutras, Guiyuan Temple houses 500 gilded luohans (alternatively, arhats, or sculpted images of disciples in varying poses that run the gamut of human expression) as well as a statue of Sakyamuni, the founder of Buddhism, and a 105-ton sculpture of Buddha in white stone, a gift from the new British colony, Burma, in 1935, which had been separated from India in the same year, but which remained under British sovereignty until 1947.
Guiyuan Temple has traditionally been in the forefront of Buddhist temples in the Wuhan area as a popular place of worship, welcoming local devotees as well as pilgrims from far and wide to its many official rites and ceremonies. Many important personages have throughout the years paid a visit to Guiyuan Temple, some bringing special gifts. Among these include Norodom Sihanouk (King of Cambodia), Henry Kissinger (President Nixon's Secretary of State), Li Guangyao (former Prime Minister of Singapore) and Yasuhiro Nakasone (former Prime Minister of Japan) as well as a much larger contingent of ordinary visitors from all over the world, especially Chinese ex-pats from Hong Kong, Macao and Taiwan.
Guiyuan Temple, which derives its name from a Buddhist chant ("Guided by original purity, the devotee can achieve anything"), is not only renowned for its role in spreading Buddhism, it is also renowned for its exquisite Han Chinese (southern-Chinese) Buddhist architecture. Guiyuan Temple was thus accorded official protection as a historical and cultural site by Hubei Province in 1956. The official recognition by Hubei Province was followed by that of the government of the PRC, which, in 1983, designated Guiyuan Temple as one of the key Buddhist temples representing the Han Chinese nationality.