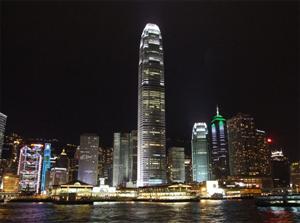 Victoria Peak is the highest peak in Hong Kong Island with an altitude of 554 meters and has been considered as a landmark of the island.
It is the best spot to have a bird's eye view of the Victoria Harbor and the whole thriving island. Viewed from the peak, the scenes are different between day time and night. At day time, you can see high and crowded buildings and the busy Victoria Harbor. At night, lit up by colorful lights, the whole scene is dazzling as a fairly-tale world. The best spot to enjoy the scene is the Peak Tower and the Lion Kiosk beside the peak tram terminal.
To reach the Victoria Peak, you can take the peak tram which was put into service in 1888. Its steepest point has an angle of 27 degree which definitely can give you an unforgettable experience.
The Victoria Peak Tram
It features the city's oldest and most reliable mode of public transport, The Victoria Peak Tram, began operating in 1888 and is a funicular railway that carves a steep 373-metre swathe up the lush mountainside. A scenic ride up from the city centre to The Peak takes only 7 minutes.
It will be very busy during public holidays and may take you more than half an hour to queen for a ticket for the tram. The tram operates daily from 7 am to midnight (12:00).
The Peak Tower
At the summit, visitors arrive at The Peak Tower, the city's most unusual building and icon. The unique "wok" shaped tower sits at an elevation of 396 metres. Viewing terraces located on different levels of the tower offer spectacular views of the Hong Kong and Kowloon skylines, including Victoria Harbour.
The Peak Tower also puts visitors in touch with Hong Kong's lesser known, but equally breathtaking natural side. Visitors can take a leisurely stroll along one of the nature trails starting from The Peak Tower and relax among the lush green vegetation while enjoying a 360-degree view of Hong Kong.
In level 2 of the Peak Tower is Madame Tussauds Hong Kong. There you can get up close and personal with your favourite stars: such as soccer David Beckham, action king Jackie Chan, actor/singer Andy Lau, etc. You and your kids will see about 100 wax figures of celebrities that look exactly like the real person.
How to get the Victoria Peak
The most enjoyable and spectacular way to reach The Victoria Peak is to take a ride on the Peak Tram. The Victoria Peak Tram runs every day, including Sundays and public holidays, between 7:00 am and 12:00 midnight.
Shuttle buses operate between the Central Star Ferry Pier and The Victoria Peak Tram Terminus at Garden Road.
You can reach the terminus on foot from MTR Central Station J2 exit.